This is a not a normal race post but instead, a different challenge which was just as rewarding.
Hannah and I were due to get married on the 29th August and were supposed to be spending two weeks hiking around Canada. Then the coronavirus happened and all our plans went out the window.
Instead of sitting home doing nothing, we decided to take a week off and take the dogs to the Lake District.
During our stay, we planned to do a few walks around the beautiful lake district countryside. One of these hikes was a walk up the 3rd largest peak in England, Helvellyn. The route we chose would take us clockwise, starting at Glenridding, around Red Tarn lake along Striding edge up to Helvellyn and then down via Swirral edge.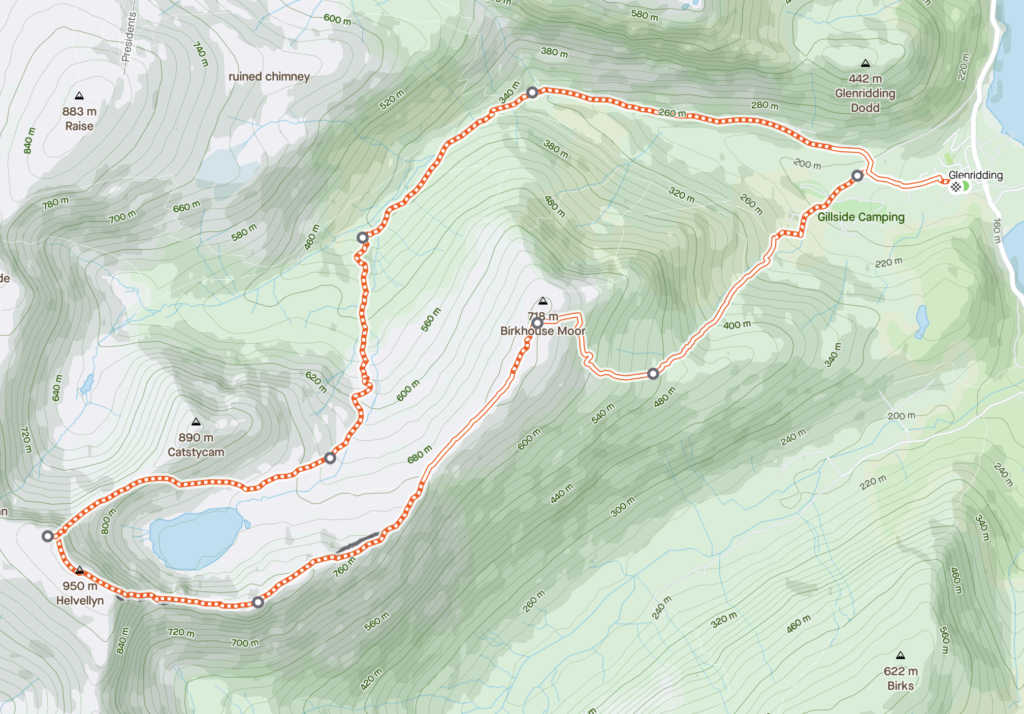 This route is one of most the challenging ways to hike up Helvellyn, something we didn't know at the time, but more on that later.
---
We arrived at Glenridding around 10:30, parked up, and set off. Our plan was just to take it at easy as possible. Archie, our pug would be okay on the downhill but due to his rather large size (don't tell him that), and the fact pugs are obviously not good scramblers I would have to carry him on my back for the uphills and more technical sections. This was going to be a challenge as he weighs around 12kg. Just hoping my fitness would count for something. Casper, however, would not have a problem. He is a husky who would have no problem navigating the tricky terrain.
As we set off the weather was warm but fine rain had started to fall. It didn't take long for the elevation to kick in and we soon hit what seemed to be a never-ending climb. It wasn't anything too technical but the steps made it hard for Archie. This was his first trip into the bag. He loves the bag. Me, not so much!
After the long climb, it started to flatten out which meant Archie could stretch his legs. However, that would be short-lived as what was about to come would be the most testing part of the entire day.
The first edge we got to, Stringing Edge, would take us up to Helvellyn. Striding Edge is known for being exposed, narrow and a little tricky to navigate in places. Something we only found out on the day. To make it even worse, the weather had taken a terrible turn. Heavy rain and strong winds made it tricky to see the exact route we needed to take. With Archie back in the bag, we carried on up the rocky trails.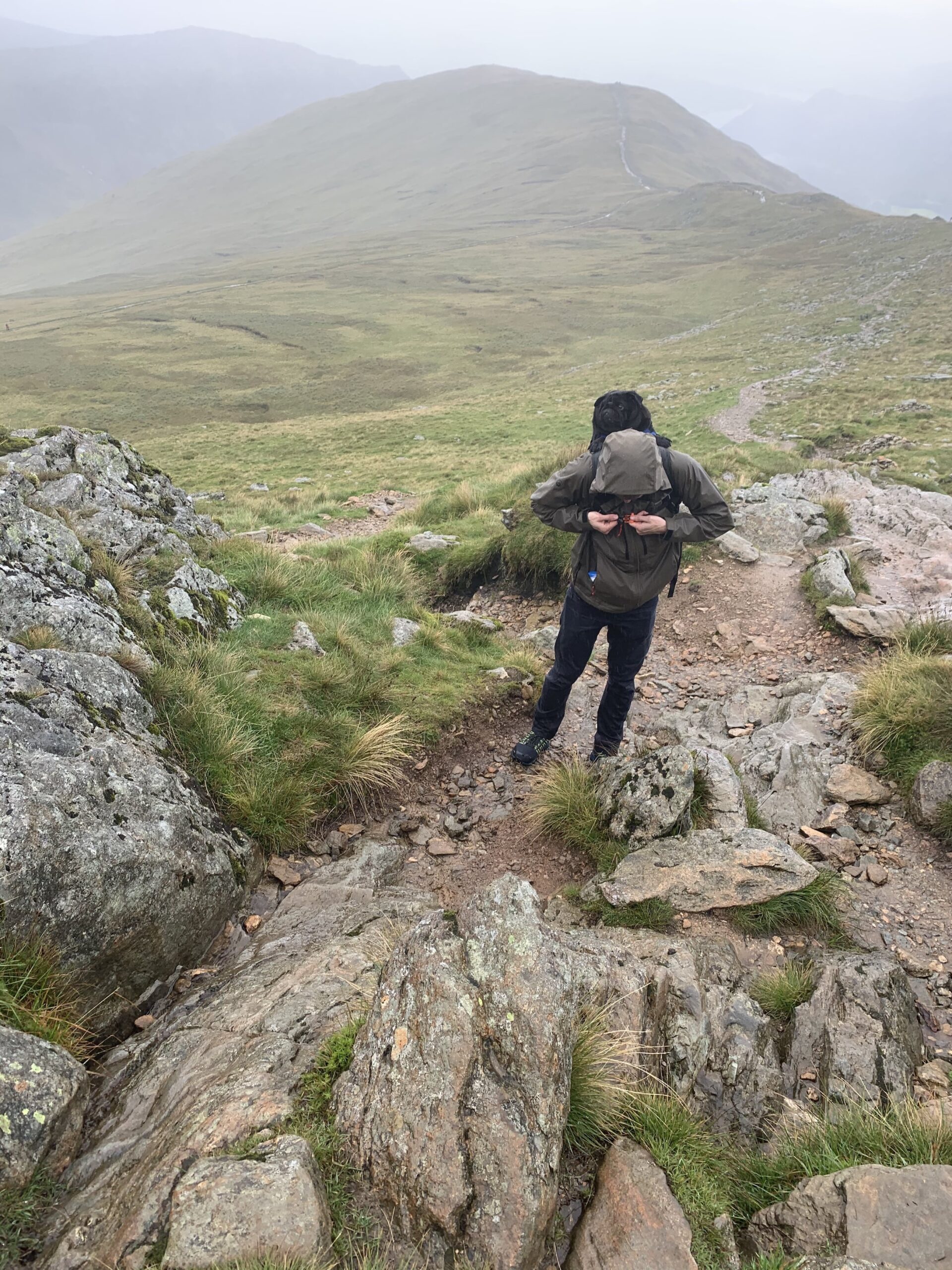 Whilst walking along the top of Striding edge we accidentally took a wrong turn and ended up traversing down the side of the mountain, which Hannah was not best pleased with. However, we quickly found the path again and continued along the edge. The rain was starting to ease up a little but the wind was still very strong. This wasn't too much of a problem for us, as unlike our route preparation we were prepared for all kinds of weather. This was a problem for Archie however, as he was starting to get cold, and I could feel him shivering on my back. It was now a race against time to get up Helvellyn so we could warm him up. By this point, Hannah, who is not great with heights was starting to get stressed with the rocky climbing and exposed trails. I lost count of the number of times she said she was going to kill me when we got back.
After a 200m of near-vertical scrambling (probably an over-exaggeration), we had finally made it to the top. This was a relief as we could let Archie out the bag so he could warm up. Unfortunately, the visibility up the top was terrible, and the wind made being up there unbearable. We took a few pictures and then looked for the way down.
With Archie back in the bag for the last time, we took the descent off Helvellyn via Swirral edge. Similar to Striding edge, just not as long. One bit of good news was the weather had greatly improved so we could finally make out Red Tarn lake and take some decent pictures.
After the few 100 meters, the descent down Swirral edge was a breeze compared to the ascent up Striding edge. It also meant Archie could come out of the bag, and with the weather improving he was able to warm up quickly.
With the hard part over it was just a long stretch back down to where we started.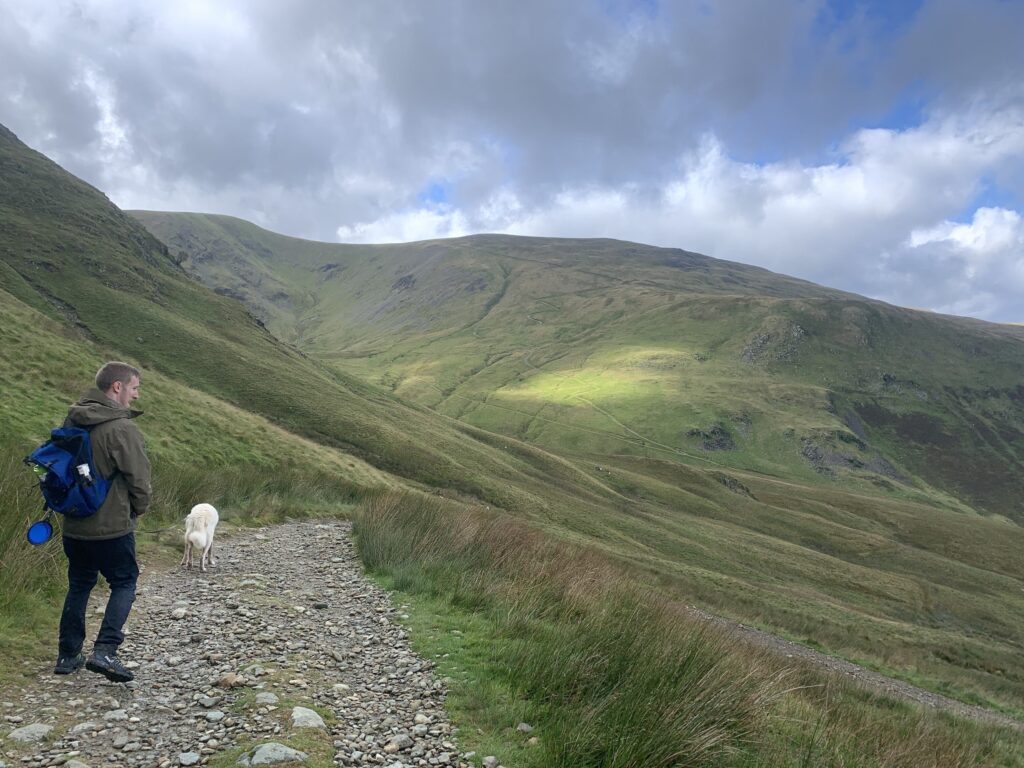 We made it back in one piece. What a day, and thankfully Hannah did not kill me when we got back!
---
Related posts