With most of 2020 being a complete right off, it meant I could knuckle down and get plenty of good training in.
Races should have been on the cards with Manchester marathon, Holkham triathlon and Valencia marathon being the main goals. However, like most events across the world, they have all been postponed to 2021.
Just when I was thinking my race calendar was going to be an empty one, Run Through announced they were going to bring back some races with social distancing measures in place. Get in!
---
Since Malaga marathon, I've been focusing on my running, with triathlon training really taking a back seat. I've still been cycling but I've not been in the pool for over a year now – oops.
The goal for this race was just to have fun and hopefully run a PB.
---
Race day
I was once again joined by my best spectator as we set off on our way to Capesthorne Hall, where the race would start and finish.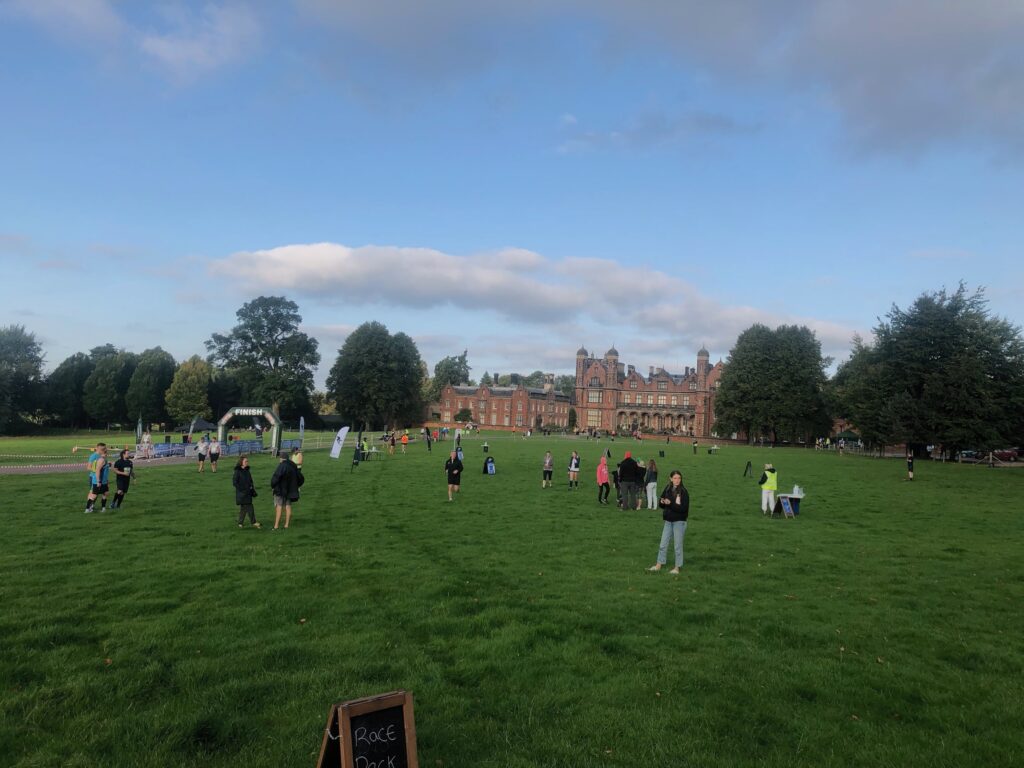 The aim for this race was to set off at around 6:10-minute mile pace, and I hoped to hold that the entire way around, which would get me in just under 1:21, and a PB of over a minute.
The start of the race was going to be slightly different with social distancing measures in place. We were all going to be set off slowly based on our estimated finishing time. As we started lining up it was clear that there were some very fast runners, with even some elite runners taking part who were training for the London marathon. There must have been 100 runners ahead of me as I took my spot for the start.
The race was off and we set out around the grounds of Capesthorne Hall towards some quiet Cheshire country roads. I quickly got into a rhythm, however, the excitement of the occasion had obviously had an effect as I finished the first mile in 5:49. That was the race strategy out the window.
Even though the first mile was 20 seconds faster than I would have liked, the pace felt good so I slowed it down a little and just kept with it. The next two miles came in at 5:57 and 6:01 respectively. The race strategy was now, let's just try and hold on for 6-minute mile pace and see what happens.
A 5k in 18:24 was a new PB over that distance, which gave me a mental boost as the next mile was my fastest in 5:48. At this point, I was feeling great although my breathing was starting to get heavier.
The next three miles came in 5:52, 5:58 and 6:01. I was still putting in good miles, but as I completed the 7th I could feel I was starting to tire. 10k in 36:43 and another 5k in 18:19 were both PBs, but that would count for nothing if I blew it now.
The 8th mile came in at 6:04 and I was struggling to keep the pace above 6-minute pace. The next mile was 6:08 and I was starting to question whether or not I went off too fast. Every mile was a struggle now and I knew the last 5 and bit miles were going to be a real test. I took a gel and try to gain some composure to finish strong.
The gel must have worked as the next mile came in at 6:02 and was the first negative split in 6 miles. Not really how you should run a race! Another negative split followed as the 11th mile came in under 6 minutes at 5:59. It was becoming a real mental test now with just 3 miles to go. I knew I was on for a good time as long as I could finish well.
Another mile at in 6:01 was just what I needed with only a mile and bit to go. However, the last mile was one of the hardest miles I've ever run in my life. I had been running at full gas for around 10 miles now and was completely empty. My heart rate had been the 180s since mile 9 which is never a good sign. I was hanging on at this point, just trying not to lose too much time on the final mile.
As I predicted my time dropped significantly on the final mile, but at 6:16 I had certainly not thrown it away. The finish line was now in sight as we entered back into the grounds of Capesthorne Hall. I could hear Hannah cheering me on due to the lack of spectators on the finish line for social distancing reasons. Although she cheers pretty loud so I would have heard her either way. I tried my best for a sprint finish but had nothing left in the tank as I crossed the line in 1:19:01
What a result. It may have not been the best tactically run race, with me positive splitting most of the miles. Another day I may have blown up that final mile, but today I didn't. I had not only beaten my PB but beaten it by over 3 mins. All that hard training makes days like this worth it. It may not have been in a race I had planned, but at least I know I have the fitness in place for when those days come.
It was a massive achievement that Run Through was not only able to put on such a great event but that everyone was kept safe in doing so. At least one good thing has come out of 2020!
Related posts