So the day has come, this would my first venture into the sport of triathlon. It's something I've wanted to do for a while now, and after a few running races, I was finally ready to take on my first triathlon race. It was going to be sprint distance event, which means 400m swimming, a 20km ride, and a 5k run.
Running was my obvious strength so my main focus leading up to the event was to improve my bike and swim. As far as a finish time, it was really an unknown. With this being my first triathlon I didn't really have a fishing time in mind, so with that being said I tried to just enjoy the day as much as possible and use this a something to build on for future races.
I would been joined on the race by my good friend and occasional training partner Ben Green. We both had the same start time, so we made our way up to Saddleworth together, just about fitting all the gear in the car. We arrived with plenty of time, racked up our bikes, and before we knew it we were nearing our start time. One of that hardest parts I've found with triathlon is making sure I've got all the right gear. I'd all ready forgotten one of my gels and it was too late to go back and get it.
---
Swim
I knew the swim was going to be my worst discipline, but at only 400 meters I knew I could at least finish the course. It was only a pool swim with 3 of us in each lane. As we all had similar finish times of 8:30, and would be starting at 5 second intervals, we didn't really have much of an issue with overtaking (although Ben did catch me on the last length – Bast*rd)
Official time – 8:25 – Pretty much dead on what I expected. The swim is by far my worst discipline, and something I will be trying to improve in future races.
---
T1 – 1:57 – Now this is an area I know I can improve on. As I mentioned before, this was the unknown element for me. I found myself faffing around with my gloves and taking way to much time putting my shoes on. Things I know I can improve on for next time.
---
Bike
The bike course was a short 18.4 km, however it was on the hilly side. With over 350m of climbing, we had to navigate our way up three climbs, with three amazing descents around the Saddleworth moors. Having never done a cycling race before I didn't really know how to pace it. I knew I didn't want to go out too hard, and to make sure I had something left for the run. That all went out the window once I turned the first corner. With some of the other athletes taking a more conservative approach, I decided to put down some power to over take the initial group of riders. As I got to first hill I had realised I'd probably gone off a bit too quick. Ben past me on the first climb, but I was determined to hang in on there and enjoy the rest of the course. The rest of race went more to plan, as I kept up a good pace whilst leaving some in reserve for the run.
Official time – 41:39 – Very happy with that time. I'd moved up 43 places from 77th to 33rd.
---
T2 – 0.46 – In contrast to T1, my T2 was actually pretty good. Nothing really to comment on here, but it was good enough to move me up to 22nd.
---
Run
With the run being my strongest area, I naively went into the race not really looking into the run course all that much. I thought it was only 5k, how hard could it be, sub 20 mins easy. How I was was very wrong. What prior research would off showed me, was that the majority of the course was running up one large hill. I had done some hill training before, but nothing that would prepared me for this. I really had to dig in and just try and keep going. With others stopping to walk I was determined to keep pushing, however at this point I was running so slowly I may as well been walking. I'd never been so happy to make it to the top, and pretty much snatched the cup of water out of the stewards hand. The final part of the course was a descent back down the hill, but with the legs all ready tired I found it hard to get back into any sort of rhythm. The finish line was soon in sight and seeing Hannah and Abi at the finish was a great sight.

Official time – 24:49 – Regret not checking the course beforehand, a mistake I will never make again.
---
Result – 01:18:09 – 34th Overall – 13th Age Group
All in all I was very happy with the result. Did much better than I expected on the ride, and I know have room to improve in the swim and transitions.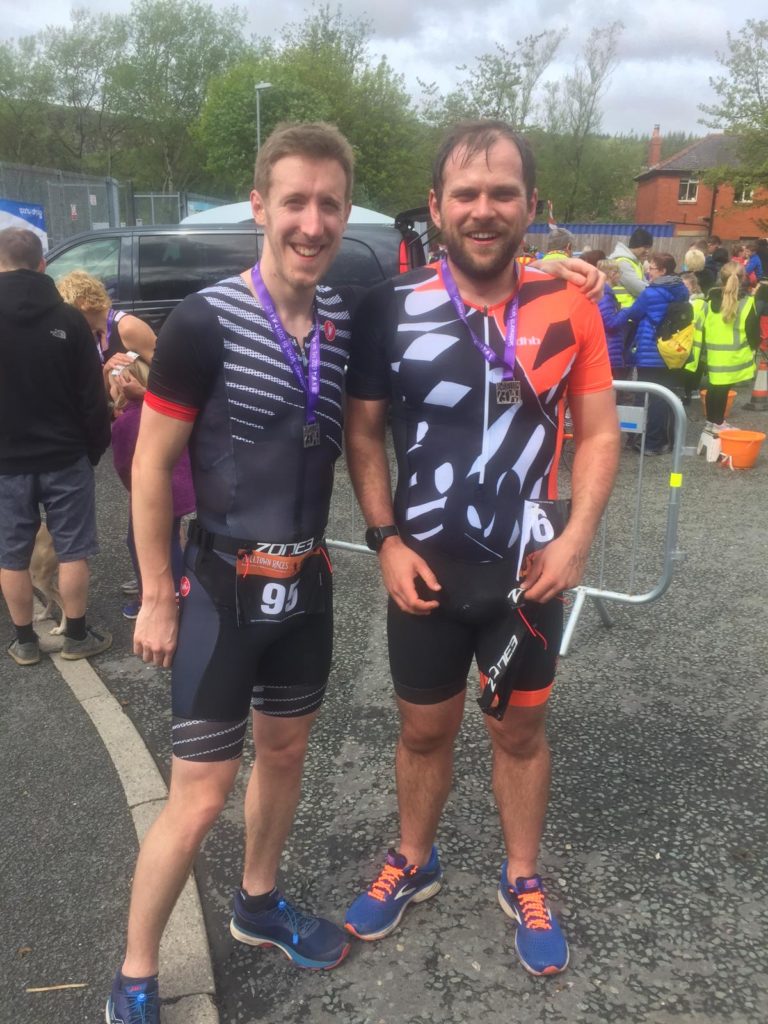 Related posts