A step up was on the cards for this race, as this would be my first shot at an Olympic distance triathlon after my sprint distance race that I did back in April.
I did not have the best prep going into the race, as when booking the event, forgot that I was already off to the Ashes the Wednesday prior, which would involve drinking copious amounts of alcohol. I had also come down with a cold two days before, I promise I'm not just making excuses, but I was determined to give it my best shot.
My good friend Ben would be joining me again, as he did on the previous triathlon. We decided to both head down the day before. Not because it was far, but because neither of us are morning people, and the 8:30 start would have meant a ridiculously early alarm.
We got to Shropshire around 17:30 and had a wander down to the lake, where the start of the race would begin.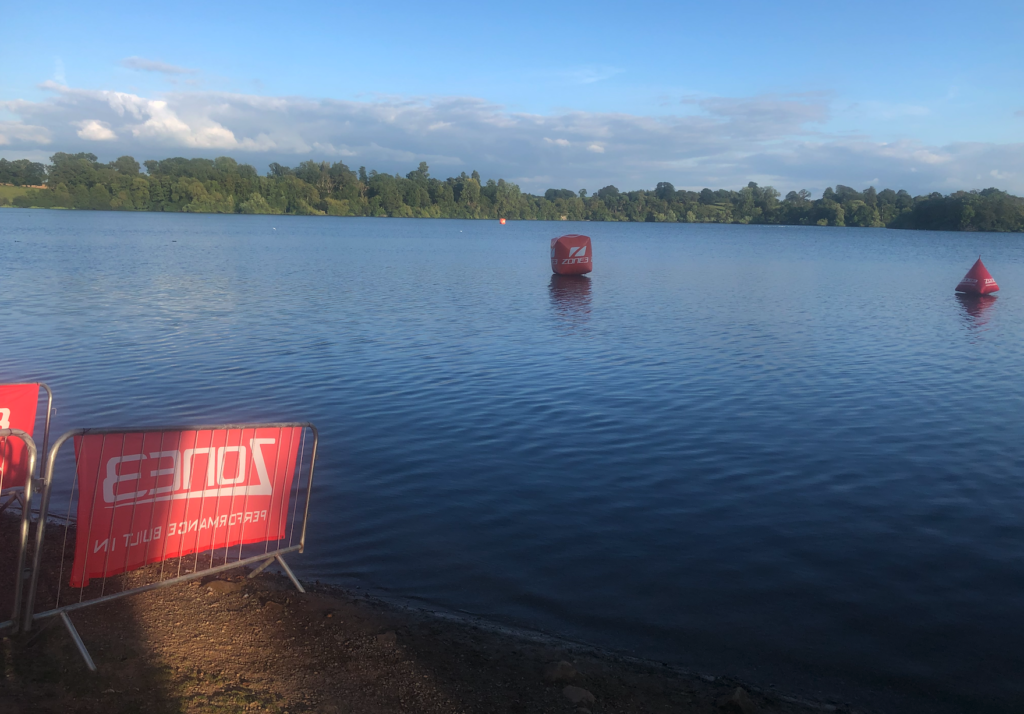 After a bit of food, we headed back to our hotel to get an early night.
---
Swim
This was going to my first mass start, and I would have been lying if said I wasn't nervous. As we all made our way into the water, I lined myself up near the back to try and stay out of all the carnage. As the horn went off to signal the start of the race, the carnage I was expecting became a reality. I had athletes swimming all over me and found it hard to get into any sort of rhythm. Finally, as the field stretched out I just focused on my stroke and sooner or later I was making my way out of the water.
Official time – 35:36 – Was disappointed with the time. Even though the swim is by far my worse discipline, I'd swam much faster building up to the race. Time was likely lost during the mass start as it took me a while to get going, but this is all good experience I can take into future races.
---
T1 – 4:02
Having to take my wetsuit off in T1 was also a new experience for me. Even with this extra step, I still spent far too long getting ready. I think mainly due to the worry of getting cold on the bike leg. Which I would later find out to not be an issue at all.
---
Bike
Once out of T1 I took the first couple of minutes to compose myself and take some liquids on. The weather was beautiful, don't know why I was worried about being cold. The bike course was extremely flat so I spent most of the time in the aero bars. After my slow swim, I found myself quickly moving through the field, moving up 29 places.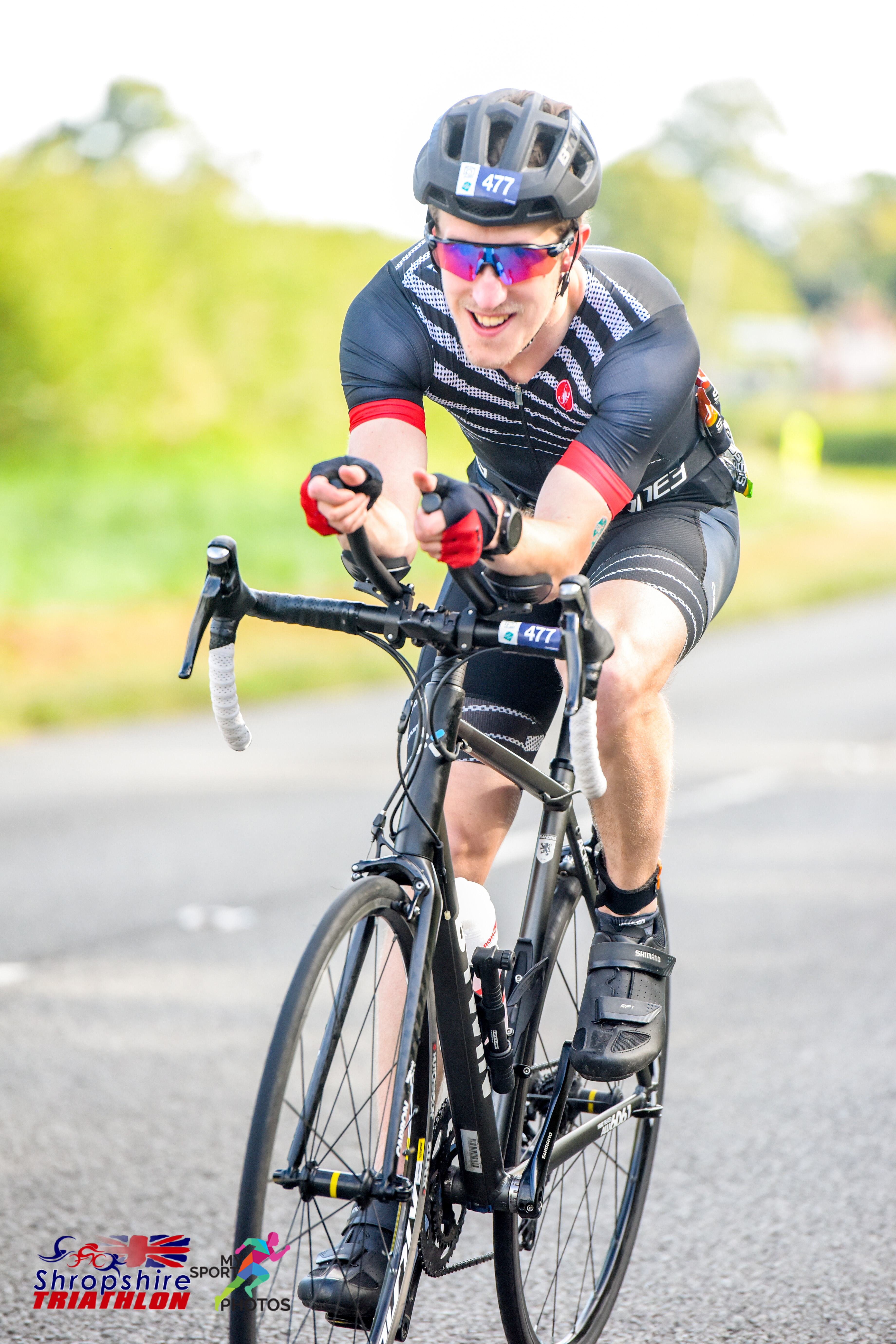 Official time – 01:13:12 – I was very happy with the bike. Felt good throughout, and with my average power just under 190W, I had managed to hit exactly the power I was aiming for.
---
T2 – 00:59
In contrast to my T1 time, my T2 was very fast. 12th fastest overall to be exact. I still felt really good but that was all going to change.
---
Run
With the run being my strongest leg, I charged out of T2 hoping to lay down a good time. To be fair it didn't start off too badly as I got into a nice rhythm. The legs were a little heavy but were feeling better with each stride. However, as the legs were slowly waking up, my stomach was not feeling so good. I had been nursing a spot of man flu coming into the race and up until now had felt fairly good. I'd been taking all the correct nutrition but as soon as I started the run, for some reason my stomach just shut down, and I felt like I was running on empty. Struggling to get any sort of pace out even though my legs felt great. My heart rate even started to drop down to the 130s which is very low for me. My breathing became very heavy and I just plodded on to the end.
Official time – 46:52 – Unhappy with the time. It was good enough to move me up 11 places but I knew I could run a lot faster on another day.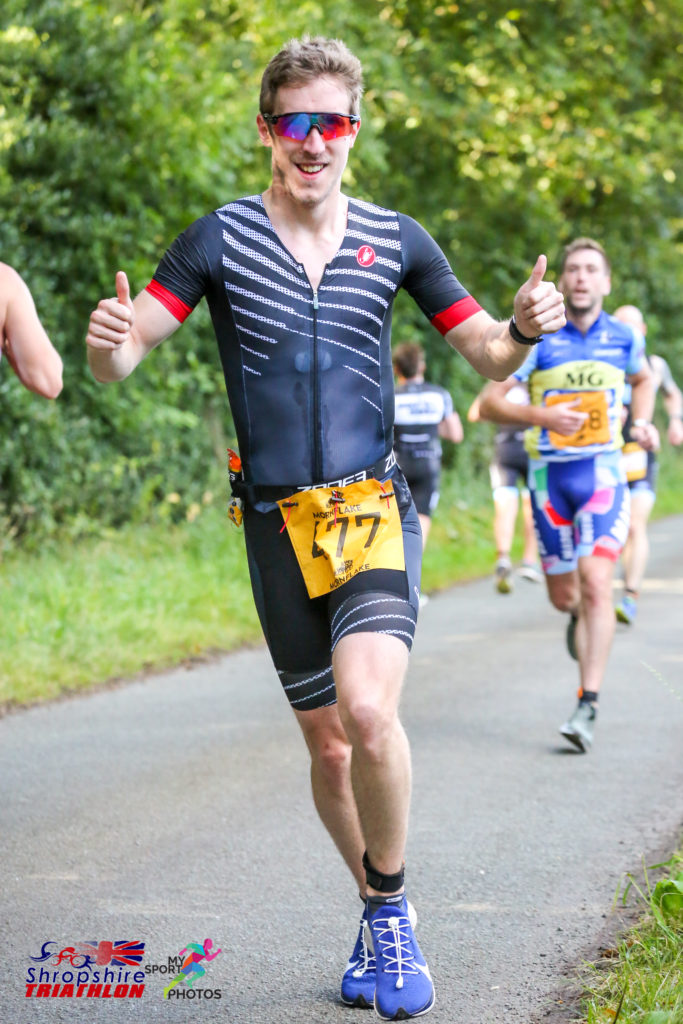 ---
Result – 02:40:43 – 58th Overall / 175
Even though it was a sub-par swim and run, I still really enjoyed the race. Beautiful weather and an enjoyable bike course made for a great day out.
Related posts